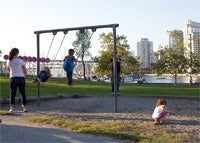 Charleson Park

If you were going to rate parks in Vancouver, Charleson Park, may win the most underrated award. But what Charleson Park lacks in notoriety it makes up for in offerings for the entire family including your dog. With an off-leash dog area for your four legged friend to romp....you can let your mutt run wild while you and the kiddos session the playground.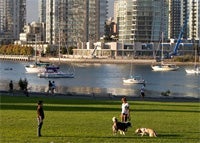 The backdrop of False Creek's shining glass buildings contrasted with the towering peaks of the Lions let everyone know why this city is called one of the most majestic urban environments in the world. Even if you don't have kids our dogs you can still stroll with a warm drink in your hand by the water and enjoy yourself. Take a moment to explore one of Vancouver's lesser known green spaces.

For those of us with children, the choice of education is up there with the most important decision you can make for you child. We've dialed out a list of schools in Fairview for you to check out yourself.
Fairview Schools
Arts Umbrella
 - Arts education for youth ages 2-19, regardless of their financial circumstances.
L'Ecole Bilingue Elementary School
 - Vancouver's first and largest French Immersion Centre (daycare services offered).
Blessed Sacrament School
 - Catholic educators providing a French immersion school experience.
Hamber Secondary
 - Vancouver public school for grade 8 - 12.
Madrona School Society
 - Private school with a maximum class size of 12 children.
Shaughnessy Elementary
 - Vancouver public school.
St. John's School
 - Private school for grades Kindergarten to 12.
Century High School
 - Grades 8 - 12. All classes are approved and prescribed by the BC Ministry of Education.